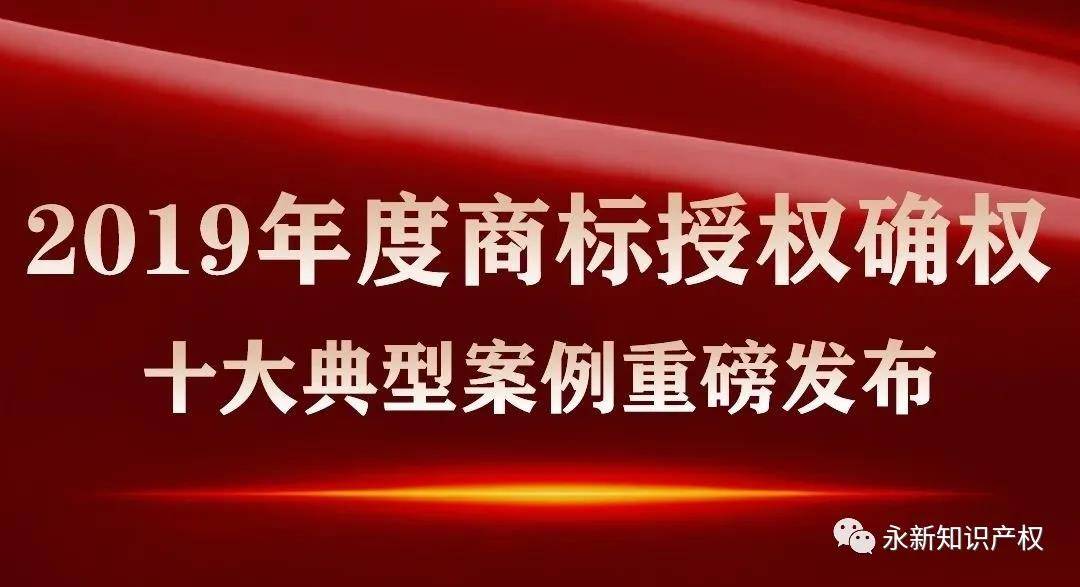 April 26th of 2020 is the 20th World Intellectual Property Day. The Invalidation against RUC's School Badge represented by NTD is listed in the "Top 10 Typical Cases Involving Granting and Confirmation of Trademark Rights", which is co-hosted by Beijing Intellectual Property Judicial Protection Research Society, All China Lawyers Association Intellectual Property Committee and supported by IP House (data provider).
In the line with the principles of "Full Disclosure, Justice and Notary", the top 10 cases are voted by over 60, 000 online participants and over 300 members. On such basis, a panel of judges comprising 32 experts give their professional opinions.

It is the second time that the case represented by NTD is selected in the top 10 typical cases, which highlights our service principle of the supremacy of the interests of customers, and demonstrates our professional skills and assiduity spirit.
Top 10 Typical Cases Involving Granting and Confirmation of Trademark Rights:

1. Invalidation against Trademark of "阿尔山"
Collegial Panel of Second Instance
Chief Judge: Yang Boyong
Judge: Su Zhifu
Judge: Chen Xi
Court Clerk: Song Ziwen
Collegial Panel of First Instance
Chief Judge: Chen Yong
People's Assessor: Li Hongbing
People's Assessor: Wang Peng
Judge Assistant: Du Lijin
Court Clerk: Wang Danni

2. Invalidation against Trademark of "江小白"
Collegial Panel of Second Instance
Chief Judge: Qin Yuanming
Judge: Lang Guimei
Judge: Ma Xiurong
Judge Assistant: Li Li
Court Clerk: Zhang Chenyi
Collegial Panel of First Instance
Chief Judge: Cui Ning
People's Assessor: Jiang Lili
People's Assessor: Liu Wei
Judge Assistant: Fan Xiaoyu
Court Clerk: Chen Lu
3. Review of Refused Trademark of Christian Louboutin's Red Sole
Collegial Panel of Third Instance
Chief Judge: Wang Yanfang
Judge: Qian Xiaohong
Judge: Yan Jing
Judge Assistant: Tang Xuan
Court Clerk: Zhang Limeng
Collegial Panel of Second Instance
Chief Judge: Zhou Bo
Judge: Yu Huibin
Judge: Su Zhifu
Court Clerk: Jin Mengmeng
Collegial Panel of First Instance
Chief Judge: Hou Zhanheng
People's Assessor: Wang Peng
People's Assessor: Gao Rui
Judge Assistant: Zhang Qian
Court Clerk: Wang Shuang

4. Invalidation against Trademark of "MLGB"
Collegial Panel of Second Instance
Chief Judge: Tao Jun
Judge: Sun Zhuyong
Acting Judge: Chen Xi
Court Clerk: Guo Yuanyuan
Collegial Panel of First Instance
Chief Judge: Zhang Xiaoxia
People's Assessor: Zhou Hua
People's Assessor: Li Laijun
Judge Assistant: Gao Tonghui
Court Clerk: Wang Meijing

5. Invalidation against Trademark of "宫颐府"
Collegial Panel of Second Instance
Chief Judge: Pan Wei
Judge: Fan Xue
Judge: Sun Zhuyong
Judge Assistant: Wu Yatao
Court Clerk: Miao Lan

6. Invalidation against Trademark of "兰州牛肉拉面"
Collegial Panel of Second Instance
Chief Judge: Tao Jun
Judge: Sun Zhuyong
Acting Judge: Chen Xi
Judge Assistant: Liu Ping
Court Clerk: Zhang Mengjiao
Collegial Panel of First Instance
Chief Judge: Yuan Wei
People's Assessor: Zhou Hua
People's Assessor: Mao Aiyue
Judge Assistant: Yang Peipei
Court Clerk: Li Xiaofan

7. Invalidation against Descriptive Trademark of "RUC's School Badge"
Collegial Panel of Second Instance
Chief Judge: Qi Lei
Judge: Jiang Qiang
Judge: Wang Xiaoying
Court Clerk: He Ya
Collegial Panel of First Instance
Chief Judge: Yi Jun
People's Assessor: Li Ying
People's Assessor: Xiao Linzhi
Judge Assistant: Shi Xin
Court Clerk: Wang Shuai


8. Invalidation against Trademark of "WeChat"
Collegial Panel of Second Instance
Chief Judge: Zhou Bo
Judge: Zhang Lingling
Judge: Ma Jun
Court Clerk: Liu Yan
Collegial Panel of First Instance
Chief Judge: Yi Jun
People's Assessor: Fan Hongyan
People's Assessor: Ruan Weishi
Judge Assistant: Shi Xin
Court Clerk: Chang Tingting

9. Invalidation against Trademark of "怡口莲"
Collegial Panel of Second Instance
Chief Judge: Kong Qingbing
Judge: Wu Bin
Judge: Wang Dongyong
Judge Assistant: Zhao Qingyuan
Court Clerk: Zhao Jingyi

10. Invalidation against Trademark of "完美生活IDEALLIFE"
Collegial Panel of First Instance
Chief Judge: Zhou Liting
People's Assessor: Wang Hongbo
People's Assessor: Jiang Lili
Judge Assistant: Yang Enyi
Court Clerk: Zeng Caiyun
Court Clerk: Liu Jiaxing