2019 China Trademark Festival (CTF 2019) (hereinafter referred to as Trademark Festival) was grandly held in Yinchuan, Ningxia, from July 5 to 8, 2019,which was co-hosted by the China Trademark Association (CTA), the People's Government of Yinchuan Municipality, the Commerce Department, the Market Inspection and Management Department, the Bureau of Expositions of the Ningxia Hui Autonomous Region, Yinchuan Municipal Bureau of Commerce, Yinchuan Market Supervision and Administration and Guomei Liquor Group.

On the evening of July 5, 2019 China Trademark Festival Opening Ceremony was held at Yinchuan International Convention & Exhibition Center, in which NTD was awarded for the 9th consecutive year "Excellent Trademark Agency".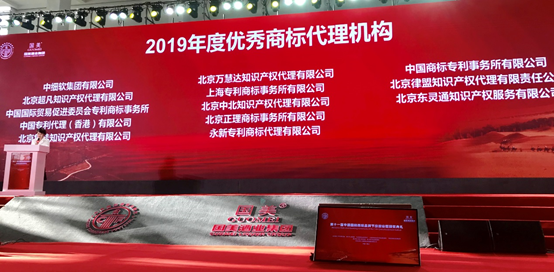 Moreover, the Trademark Festival of this year firstly introduced "Golden Trademark Attorney" to encourage the trademark attorneys in China who made profound achievements, and provided the professional and all-around service for a long term. Ge Aidi, Qiuhong and Hong Ying, three senior trademark attorneys from NTD, were awarded with this honor.
The Trademark Festival is a major propaganda in the field of intellectual property which has been listed in the National Plan for the Protection and Use of Intellectual Property Rights in the 13th Five-Year Plan Period and the Promotion Plan for the in-Depth Implementation of the National Intellectual Property Strategy and the Acceleration of the Building of a Powerful Intellectual Property Nation in 2018. CTF 2019 was themed "Strengthening Trademarks & Brands Protection and Building a New Path of Innovation and Development". Focused on the national intellectual property strategies and the trademark strategies, a series of activities covering China Trademark Annual Meeting, China Trademark Exposition and other themed activities took place. The attendees covered the leaders of the National Intellectual Property Administration (CNIPA) and the relevant authorities, the representatives from the local governments and other provinces, the experts and scholars in the field of intellectual property and the representatives from well-known enterprises. The Trademark Festival serves as a platform to spread the most authoritative, prospective, practical administrative and commercial information in the trademark field, on which multiple parties can exchange the international experience. Our national original brands are displayed in an all-around way through such activities, and the innovation, protection and utilization of our national trademarks are improved.