On April 26, 2019, the list of "Top 50 Excellent Intellectual Property Attorneys in China" was released, in which two senior partners from NTD, Mr. Christopher Shaowei and Mr. Christopher Shen were included.
The campain for the"Top 50 Excellent Intellectual Property Attorneys in China" issued on March 30, 2019, which was held by the popular IP media ZHICHANLI and IPRDAILY and is the first rewarding for the excellent IP individuals in China.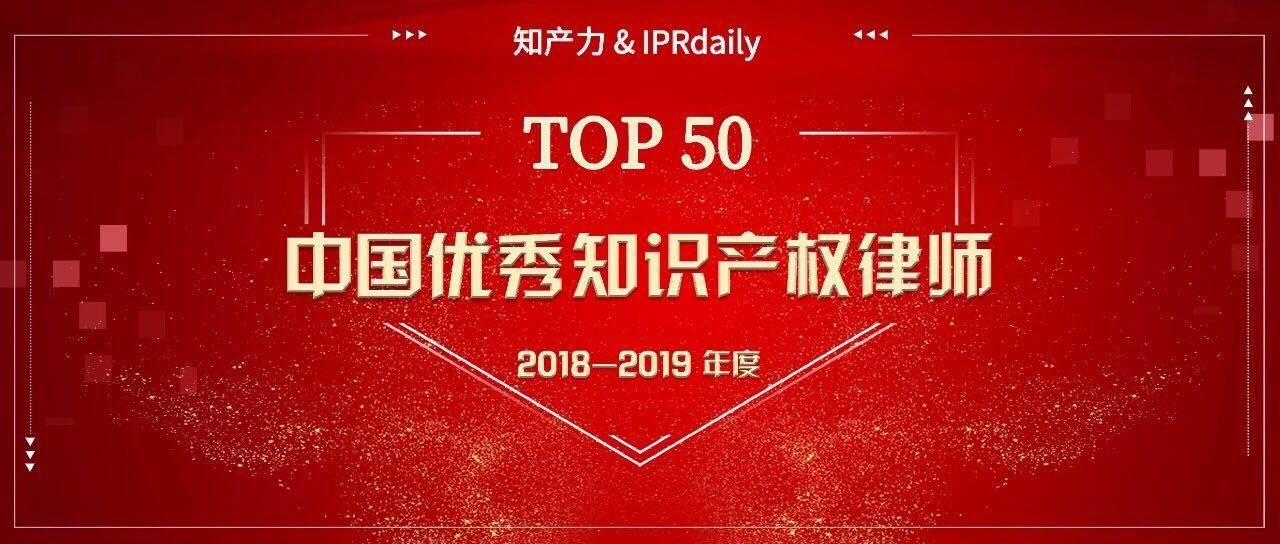 The TOP 50 list was based on the IP cases which were closed during the last five years, from January 1, 2014 to December 30, 2018, and was taken into eight evaluation standards, i.e., IP agencies the nominees occupied in, working experience, clients' qualites, prominent cases, comments by media, quantites of honors, cases-winning rate, quantities of cases, and evaluations by well-known enterprises.
200 IP attorneys were nominated in the first round, and on the above evaluating aspect, Zhichanli and IPRdaily calculate the feedback of public voting collecting back from the special voting platform where the deadline is on April 19. Until 12 o'clock of April 23. Totally more than 300,000 people had voted, and more than 200,000 had clicked the selection link with 500 Top Stories and over 600 comment messages.
On April 22, the list of enterprises took into review was released, attracting the wide attention of experts in IP field. Finally on the basis of comprehensively-evaluated marks, the list for Top 50 Excellent Intellectual Property Attorneys in China was made.
Mr.Christopher Shaowei

Mr.Christopher Shen

Christopher has been with NTD for more than 27 years and has litigated many complex cases and frequently represented his clients before administrative agencies in China. He also counsels clients and provides legal services in all areas of intellectual property ("IP") including licensing, dispute resolutions before administrative and judicial authorities, patent law, trademark law, copyright law, trade secrets, unfair competition, domain name disputes, and patent prosecution.

Christopher has been actively involved in the legislative process in China relating to IP laws and regulations and is a frequent speaker/panelist on patent litigation, trademark enforcementand technology transfer issues at various world leading conferences and seminars.

Christopher has been honored by AsiaLaw for a consecutive number of years as the leading practitioner in IP litigation area in China. During his recent nomination, he has received the following comments from one of his clients, a fortune 500 company –

"Christopher Shaowei from NTD is a well-respected patent litigator. Clients like his execution, pro-activeness and creativity. He consistently brings new and creative approaches to resolving our issues. These kinds of skills and acumen are so lacking and rare in typical China law firms."

Christopher Shen joined NTD after graduating from Renmin University of China in 1998 and started his profession in intellectual property. Afterwards, Mr. Shen received advanced education in the United States and earned a LL.M. degree in Intellectual Property Law from the George Washington University Law School.

Mr. Shen has been qualified to practice law in both China and New York State since 2000 and 2005 respectively. Mr. Shen concentrates his practice in IP strategy counseling, foreign-related IP litigation and administrative enforcement. Mr. Shen has more than 17 years of experience in representing many famous domestic and foreign companies in lawsuits and arbitrations with respect to patent, trademark, copyright and unfair competition disputes. Mr. Shen also has been invited to attend International IP Symposiums many times to deliver speeches in respect of China IP Protection and has been establishing extensive connections with foreign IP attorneys.

In 2012, Mr. Shen has been selected as Expert in the overseas IP protection expert database of Ministry of Commerce of PRC. In 2014, Mr. Shen has been recognized as one of the high-level IP talents by SIPO. From 2009 to 2016, Mr. Shen has been recognized as one of the Best Trademark Lawyers in China for eight consecutive years by Who's Who, affiliated Legal Journal under IBA. Mr. Shen has been named by MIP (Managing Intellectual Property) as one of the Top 40 "IP Stars" in 2014 & 2015 and IP Star (Trademark and Copyright) in 2015.