source: WIPO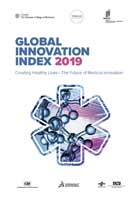 On July 24, 2019, the World Intellectual Property Organization (WIPO) released the Global Innovation Index(GII) 2019 in New Delhi, India. With a rise for the fourth consecutive year, China ranked 14 in the list of this year, rising 3 places over last year, and deserves a stable place in the cutting-edge innovation-oriented nations in the world.
According to the new statistics, Switzerland is the world's most-innovative country followed by Sweden, USA, Netherlands, England, Finland, Denmark, Singapore, Germany, and Israel. As the only middle-income economy in top 30, China has demonstrated its outstanding innovation power in multiple fields, topping the lists of the Number of Patents Owned by Native, the Number of Industrial Design Patents Owned by Native, the Number of Trademarks Owned by Native, the High-Tech Net Exports and the Creative Goods Exports.
Global Innovation Index (GII) has been jointly released by WIPO, Cornell University and Institut Européen d'Administration des Affaires (INSEAD) since the year of 2007. It displays the ever-changing innovation abilities of the countries in the world through the quantified indexes.